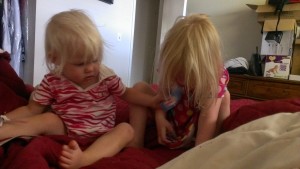 Sharing is a complex idea for kids to grasp. They actually have to think beyond themselves, and accept parting with something they might hold dear, at least for the moment. We didn't really get serious about teaching sharing until our church nursery had a lesson about sharing. Lizzy came home with a new tool in her arsenal. Rather than being the one to give up something, she began insisting that everyone must share with her. It was a bit of a face-palm parenting moment.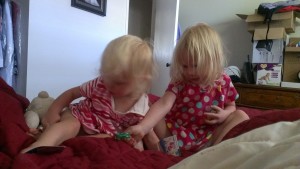 So, we began the slow process of teaching sharing. Toys are the obvious things for kids to share, but we, also, insist on sharing food and time doing a certain activity. As the parents, Michael and I have to ask nicely and coach the girls through the action of sharing. It can be aggravating when they aren't willing to listen, but when they actually follow our directions, they get lots of praise and a serene moment with friends.
We usually can tell that we have a moment to teach when a fight breaks out over toys. We ask the child that wants the toy to ask nicely for it, which sometimes means telling them exactly what to say. And then we instruct the child with the toy that it's time to share, which means it's the other person's turn, and it will be their turn again in a little bit. This doesn't always work, and sometimes ends in time outs, but when the kids aren't being obstinate, they practice the process of sharing. We're hoping that after enough times practicing this skill, that it will become second nature.