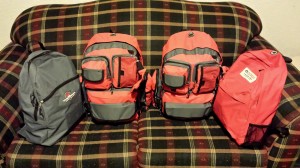 I finally got our 72-hour kits finished last April after years of trying to accomplish this goal. I have been scouring Pinterest for ideas on how to make these. I read the Red Cross' guidelines for the first 72 hours after an emergency occurs. I even found calorie recommendations for men and women at different ages. And then, realizing that I was never going to get it exactly the way I wanted it, I broke down and bought two 2-person 72 hour kits from Thrive Life (used to be Shelf Reliance).
These kits comes with enough supplies for two people, a small amount of water, packaged so that it lasts for five years, and two 3600 Kcal bars, which also last five years. There are four basic kits, each in a nice plastic bag. There is the hygiene kit, to which I added baby shampoo, a travel brush and mirror, Q-tips, and travel deodorant. I, also, took the sanitary pads out of my husband's pack and put them in mine. To the first aid kit, I added fun band aids for the kids, sunscreen, aloe vera gel, and chap stick. I don't know why these kits didn't come with sunscreen. That seems like a pretty logical thing to put in a 72-hour kit, but a travel size was cheap enough, so it wasn't that big of a deal. I, also, moved the first aid kit to one of the front pockets on the backpack for quick access, and to make more room for food in the backpack. The survival kit, as I call it, comes with some basic stuff to help you get through some of the crazier things that can happen in an emergency. I didn't add anything to this kit. And the warmth kit, is all about staying dry and warm. I added more hand warmers and an emergency blanket. There is, also, a very nice wind up flashlight. It's the best one I've ever seen. As well as a large water bladder, water purification tablets, and an emergency preparedness guidebook. I added some tissue and plastic bags to the outside pockets.
For clothing, I added two pairs of socks, two pairs of underwear, an extra shirt, and extra pants for the girls. For entertainment, I added small coloring and sticker kits, extra crayons, puzzles, glow sticks, a slinky, a jumpy frog, a maze, a note pad, a magnifying glass, and dominoes. Most of that came from the dollar store. I made backpacks for the girls, which contain the toys, their clothes, and the half of the food that is for snacks. For food, since the girls will probably not eat the calorie bars, and my husband will need more calories than the kits came with, I added dark chocolate acai bites, dark chocolate pomegranate bites, M&Ms, Reese's pieces, fruit leather, applesauce, raisins, slim jims, and beef jerky. For lunch and dinner we have tuna salad, chicken salad, and BBQ chicken salad.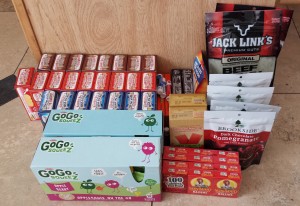 One thing to keep in mind is that things expire. All of the food expires eventually, so we made sure to get food that would last at least six months. Last night, since it's been six months, we took out all the food that will expire before next April. Today we're munching on applesauce packets, fruit leathers, and slim jims, because they haven't gone bad yet. I'm going to buy replacements for them that may or may not be the same thing, but I will keep calories and food type in mind. The calorie bars will need to be replaced in five years, as well as the tiny bit of water. The deodorant and sunscreen will need to be replaced eventually. Clothes needs to be updated as children grow… and adults, too. Because my girls are so close in age, I actually just gave the younger one the oldest's clothes and found some new clothes for the oldest. It was super simple, which is the best way to manage these kits. Entertainment needs to be kept age appropriate as well. We're adding a few books this time.
Keeping on top of these kits has many benefits. The best, I think, is that you get to change your mind about what's in them. I have decided that the slim jims are disgusting, so for myself, I'm going to try to find some other kind of protein that will last at least six months. Eventually we're going to test the calories bars to see if my husband can even handle eating them, but until then, I'm adding antiacids and Digestzen, so that he can cope in an emergency. My kids will actually fit in the clothes in their packs, probably for another year. And, finally, when new family members arrive, you are reminded to make them a kit as well. I have a whole new kit to make for a baby, which hopefully won't cost too much.
Here's a quick list of what I'm putting in his backpack for those who need an infant 72 hour kit list, and then I'll be off.
1 small can of formula
3 bottles of Smart Water
1 bottle
15 size 3 diapers
travel wipes
diaper rash cream
3 size 9mo PJs (Just a guess as to how big he'll be in six months. I'm going to the DI for these.)
3 size 9mo onsies
jacket
blanket
3 purees (Put as much as you think your baby will be eating in six months.)
toys
mylicon
tylenol
Good luck! Don't over think this. The important part is that you have something in an emergency, not that it's absolutely perfect. Also, keep the kids packs light, as you will probably be the one carrying them, and the kids, and your packs. Again good luck, may we never need to use these.