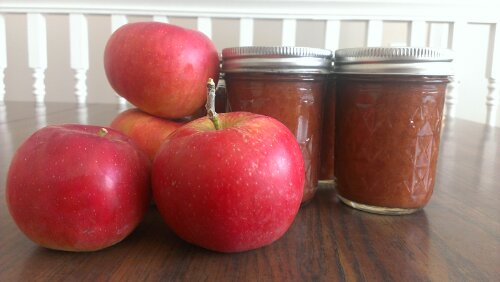 Apple butter is a deliciously, thick, dark sauce that was a huge treat when I was growing up. We put it on pancakes, waffles, toast, probably my mom's homemade bread fresh out of the oven if the two ever happened at the same time. I love the stuff. The first time I ever went grocery shopping for just myself, I found some and enjoyed the entire tiny, little bottle. My mom made it just using applesauce, but I had a box full of Jonathan apples, the best apple on the planet, and I wanted to turn them into the best tasting sauce on the planet. My husband said I made the whole house smell like wassail.
10 apples, peeled and cut into 1 inch cubes
1 T cinnamon
1/4 t cloves
1/4 t nutmeg
Put apples in crock pot, and cook on high for 2 hours. Stir every 30 minutes or so to keep the apples from burning. Mash the apples with a potato masher. Cook on low for 6 hours. Continues to stir every 30 minutes. In the last hour, mix spices in with a whisk. Makes about 4 cups.
After mashing, the apples will look very similar to applesauce, you could probably stop there and have applesauce. As the apples cook, they go from the yellowy cream of an apple, to a pinkish, to a brown, and then when you add the spices, you will get the very dark brown color.
While, in the picture it shows that I put them in glass jars, I did not properly can them, so I will be freezing them after the 24 hour waiting period. The sauce was hot enough to seal the jars, however, so be careful to let it cool down before putting it in anything plastic.