Over the past few weeks, I have been very preoccupied by the planning of my pretty girl's birthday party. I knew all the way back in January that I wanted to do a bubble party. I wanted a bubble machine, and a bunch of bubbles for the kids to play with, and of course balloons… actually it was pretty scattered until just a few weeks ago.
So, here's what I did.
Bubbles
I googled "bubble party" and found this site. It really helped get the ideas flowing. We went to the dollar store and bought a bunch of bubble wands in various sizes. This was a hit, as even the parents were enjoying it. We asked some of our friends if they could bring a pool and a hula hoop so we could make massive bubbles. This part was really amazing. The same friends even commented that if we had hired a clown or magician, they would not have been as successful as the giant bubbles. We, also, bought a bubble machine for $20 from Walmart that we set on the front porch, so there would always be bubbles blowing. Rather than buying tons of bubbles, I made them.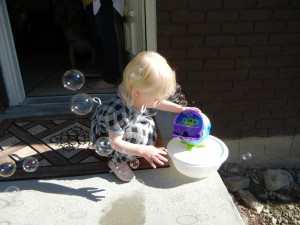 Invitations
We bought bubbles from the dollar store, emptied out the bubbles to save for the party, torn off the paper, and washed them in the dishwasher. When they were dry, I made some invitations that I could wrap around the bubble wand and then stuff in the bottles. Tape the invitations shut so they don't stick to the sides of the bottle.
As far as delivering the invitations goes, we sent half of them through USPS, which cost $2/ bottle, and since the bottles were such an odd shape, one of them didn't even get delivered until the day of the party. The other half we hand delivered, which was great, because I wasn't wondering if they got the invite, and most people were able to RSVP right on the spot. So, if you do this, it's much more worth it to hand deliver
Food
For dinner, I served BBQ Chicken and fruit. I meant to do a salad, but I just didn't get to it. I found all of the fruit at a really good price at Winco. I got my fruit platter from the value section at Target, and my serving tongs from the dollar store. The BBQ Chicken is a crock pot dish, so it was really easy.
This BBQ sauce is good for a lot of different dishes.
Cake
Since there were a lot of kids that came, I wanted to do something that would be easy for them. Cupcakes are not the easiest cake option when you are making them yourself, but it was so nice to just hand out the little cakes when the time came. I made all of the cupcakes the night before the party, which gave plenty of time for them to cool, so I could frost them the day of the party. I, also, made a mini cake that I covered completely in pink and white sixlets. I found the sixlets at a party store and used what was left to add some flair to the cupcakes.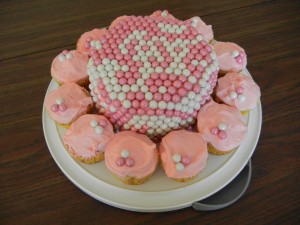 Decorations
Balloons of course! They're round and light as air, just like bubbles. We got a dozen helium filled in clear, silver, and pink, plus a Hello Kitty one. Then we found a big bag of white balloons at Walmart for $2.50. The men blew up at least half the bag, and the kids had tons of fun running through them.
Well, I think that's all I did. It was super fun, and we're playing with the left over bubbles as I type this. Thank you to everyone that  came and helped out.
All of these beautiful pictures were taken by Sarah Stufflebeam, whose blog can be found here.