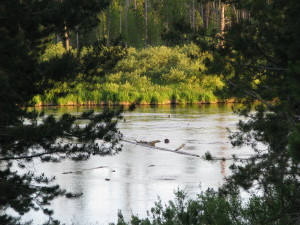 The Stonehocker family cabin is right next to the Henry's Fork of the Snake River. We can see the river out our windows, and it is breath taking. The water stays a cold 52°F year round.  We love wading in the river and catching minnows, and every couple of years we venture down to Mack's Inn in a canoe. The trip takes 2 1/2 – 3 hours, and is extremely peaceful, relaxing and beautiful.
This year, Michael, Lizzy and I took a canoe down, and my sister, Erin, and her boyfriend, Kevin, floated in a little yellow raft. We started off getting stuck in the usual shallow spots, and pushing ourselves out with our oars, one of the benefits of a canoe over a raft. Lizzy had a great time rowing with her mini oar, splashing the water, and snacking on Frooties.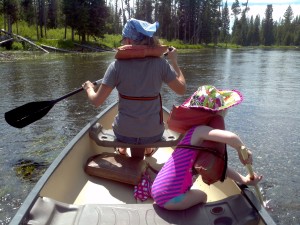 About a third of the way down, we spotted moose in the water. I was completely terrified, but Kevin and Erin slowly drifted past, and after a while we did too. The moose stared us down throughout the whole encounter. Turns out they just wanted to cross the river to get to the other side.
About ten minutes later, we spotted another moose, drinking from the river, and we slowly floated on passed it. Soon after that, a bunch of people in canoes rowed passed and asked if we saw the moose. We confirmed that we had, and asked if they'd seen the two moose before that. Apparently we were the only ones that saw them.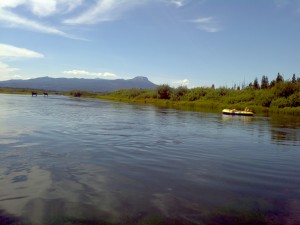 Being in a canoe, we went considerably faster than Kevin and Erin. So every now and then, when the river had a mini island in it, we'd take the side less traveled, and then head back up the main part of the river. On one of these random excursions, we came across a huge field of wild chives. We rowed right up to the shore, and picked some chives right from our canoe. They smelled fantastic, and I wanted to climb out and pick the whole field, but I settled with just a handful.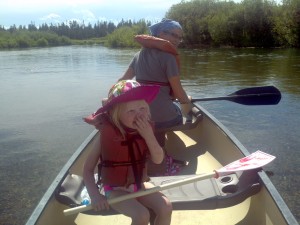 At the end of trip, when we pulled into Mack's Inn, Lizzy and I waded in the water while Michael took care of all the canoe stuff. Lizzy loved the water, and went in up to her neck! I was amazed that she was brave enough, and that the water actually felt decent enough to make that tolerable. Then, Michael, Lizzy and I sat on a dock with our feet in the water, while we waited for Kevin and Erin to come in.