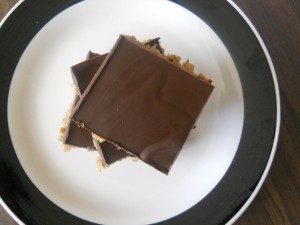 Well, healthier than these. I switched the graham crackers, which usually have high fructose corn syrup in them, for oatmeal and flax, which a full of fiber, iron, and omega-3s. Then I switched the powdered sugar for much less honey. These could easily be made into lactation cookies just by adding some brewer's yeast.
Healthy No Bake Peanut Butter Bars
Ingredients
1 C Oatmeal, ground
1 C Flax, ground
1 C Butter, melted
¾ C Honey or less
1 C Peanut Butter
1 ½ C Dark Chocolate Chips or Carob Chips
4 T Peanut Butter
Instructions
Grind your oatmeal and flax in a food processor.
Combine oatmeal, flax, butter, honey and peanut butter in a large bowl.
Mix with a spoon.
Spread into a 9X13 pan.
Melt Chips and Peanut Butter in a microwave, stirring every 30 seconds.
Pour over top of peanut butter mixture.
Refrigerate for one hour.
http://kstuff.net/healthy-no-bake-peanut-butter-bars/
If you don't have flax, use another cup of oatmeal. This recipe is super flexible, so experiment away!
You can find ground flax and carob chips in the bulk section at Winco or at any health food store.