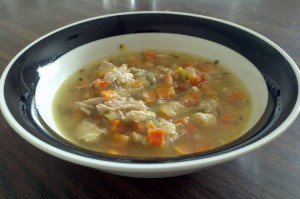 One day, when I was a brand new mother, I opened a can of Cambell's chicken noodle soup, heated it up, and was disgusted by it. So much so that I searched and searched for the perfect chicken noodle soup recipe, and settled on a combination of a few. The perfected recipe is here. We have enjoyed this recipe many many times, and I was so sad to see it go when I discovered the amazingly delicious and healthy world of Paleo eating. To top it off, the only thing in the soup that is not Paleo is the noodles, but without them you just have chicken soup, which is kind of boring.
Being a year into Paleo eating, and having a huge surplus of zucchini, I decided to do what any good Paleo eater does and sub zucchini for noodles. It was pure perfection. No heartburn for my husband, no sluggish feeling for me, and the kids went for seconds and thirds. We are, also, a month into our crazy plan to be out of debt by January 2014, so I made this using food storage. Feel free to refer back to the original recipe for whole food amounts if you don't want to use food storage to make this.
4 T butter
½ C FD onions
½ C dehydrated carrots
½ C FD celery
2 quarts of liquid, chicken broth, water, or a combination
Salt
Pepper
1 t Thyme
1 Bay Leaf
2 C FD chicken or leftover rotisserie chicken
1 medium zucchini, shredded
In large soup pot, over medium heat, melt butter. Sauté FD onions in butter, and add some liquid before the onions burn. Add carrots and celery, remaining liquid, and spices. Allow to simmer for five minutes. Add FD chicken or cut up rotisserie chicken and zucchini. Let simmer for 30 minutes. Serve warm
Note: The more water you use, the more salt you will need.