I wanted to post this yesterday, but then I realized that I hadn't introduced my tomatoes, and I definitely wanted to do that, so I saved this until today. Our tomatoes are about 1-1 1/2 feet tall right now, so I decided to prune them a little. It's really easy to do, and I'm glad that I'm starting them this young, because the "wound" that is created is small enough to not cause problems, and the suckers are really easy to pick.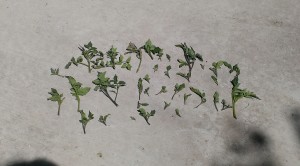 Pruning is definitely scary the first year around, but if you educate yourself and then trust that you won't pick off good, strong, fruit bearing stems, it's not so bad. Some people like to prune their tomatoes to only one main stem, and others like to have a few main stems. It really is up to you. Just know that pruning creates bigger, stronger, tastier tomatoes, so even just a little to start with will be beneficial.
I'm not going to go into the details of how to prune, because this You Tube video does way better than I ever could. Plus, the accent is fun to listen to. I just wanted to get fellow gardeners thinking about it.