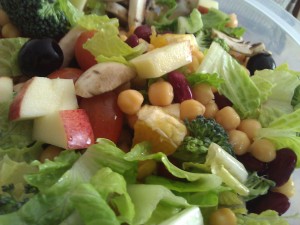 In February 2011, I went to my nutritionist complaining of post partum depression.  He explained that I wasn't getting enough carbohydrates to my brain, which is the only nutrient that your brain can use to function properly.  Thus, I was experiencing this depression.  He gave me a high protein, high complex carbohydrate diet to use.  I started immediately, and in that same month I became pregnant with Miss Leah.  (If that's any indication to how good it made me feel.)
My very favorite part about this diet is lunch time.  Basically, you make a massive salad, and spend about an hour eating it.  There comes a point where you feel full, but not stuffed, and can just put the salad down and go on with your day.  I usually eat this while watching Lizzy play, so that it doesn't get in the way of our day.
To make this salad, I take every vegetable I can find in my house and put it in a big Tupperware bowl, so that I can save it throughout the week.  I love getting a Bountiful Basket so that I can have a huge variety of vegetables to put in this salad.  Today, this is the salad that I made.  Sometimes I will cook up a few chicken tenders and dice or shred them, and I really like cheese cubes in this as well.  Also, I included my homemade Ranch dressing recipe.  The key to making this dressing is tasting it.  If you can taste every ingredient that you put in it, and none of them overpower the rest, then you've done it right.
Today's Salad
1 Romaine Lettuce Heart, sliced
½ Broccoli Head, cut into small pieces
1 C Grape Tomatoes
1 Celery Stalk, sliced
2 Green Onions, sliced
4 Mushrooms, sliced
1 Apple, diced
1 Orange, diced
1 – 15 oz can of Olives
1 – 15 oz can of Garbanzo Beans
1 – 15 oz can of Kidney Beans
Homemade Ranch Dressing
1 C Yogurt
½ C Mayonnaise
¼ t Pepper
¼ t Salt
1/8 t Garlic Powder
¼ t Onion Powder