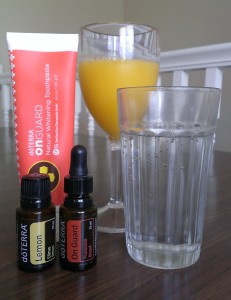 I got a sore throat in the middle of July. What a horrible time to be so afflicted. At least during the winter you expect to get sick a few times, but during the summer, you get sick and you have no idea why. I became a pro at soothing my sore throats when I moved into my first apartment during college. My roommates introduced me to the idea that hot chocolate is fantastically soothing to a sore throat, which it is, but later I reasoned that while it soothed my throat, it probably prolonged the sickness. So, I switched from hot chocolate to 100% orange juice. It's very soothing, plus you're coating your throat with high dosages of vitamin C.
Along with the orange juice, I drink a lot of water with drops of lemon essential oil in it. The lemon is very soothing to the throat, and helps to boost your immune system. The water by itself helps to keep you hydrated so that your body can effectively fight off the infection. I add the essential oil to my cup before I add water, otherwise the oil will just sit at the top, instead of penetrating the water
At night, I use a humidifier. This is particularly helpful during the winter, when the heater can make the air dryer than the Sahara desert. During the summer, when we have our swamp cooler running, even at night, it doesn't make as much of a difference as far as humidity is concerned, but I add essential oils to a little compartment right in line with where the steam comes out. It creates a sort of cheap diffuser, and allows the oils to penetrate the entire room.
The best oil I have found for sore throats is On Guard, an essential oil blend by Doterra. On Guard is great for killing the germs that may be causing the sore throat. It has orange oil, which is used for sores in the mouth, and cinnamon, which is an amazingly potent spice when it comes to warding off disease. I rub the oil down my neck and along my jaw. I, also, use On Guard toothpaste to clean out my mouth and kill any germs that may be in there, and I gargle with a drop On Guard in a small cup of water, getting it as far back in my throat as I can without choking.
When I first started trying to soothe my sore throats, I was simply trying to find a way out of the pain, but in the process, I think I found a few ways to get over them quickly. My sore throats used to last a dreaded two weeks, and now I'm done with them in a matter of days. All of these soothing techniques are natural remedies that go beyond pain management to help promote health.