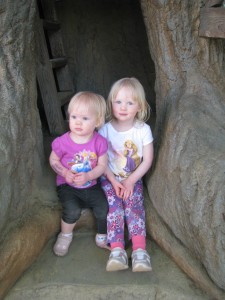 These two girls are my dream come true. Ever since I was twelve, I have wanted to be a mom, and then when I became a mom, I was blown away by how difficult and exhausting it is. But, precious moments, that sometimes only last mere seconds, like this picture, are what make being a mom completely worth it.
This picture was taken, by me, at the tree house at Disneyland. Getting them to sit still, together was nearly impossible. I didn't even think I had succeeded in capturing this kind of cuteness until after the trip when I was going through all the pictures.
I love getting pictures of them together, because you can see how similar they really are. Being the mom, I see all the little details that make them different, and who they are, but it's fun to see that my girls look like sisters. The thing that stands out the most to me is their amazing, blue eyes. Neither my husband nor I have blue eyes, so it's fun to see the blue from our family's be passed on. Especially such a beautiful, intense blue.