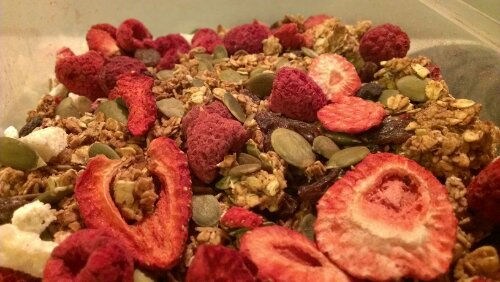 I made a goal to make granola as part of my 101 Goals, but when I started the Paleo diet, I figured that one would never get accomplished. But, I've switched back to my hypoglycemic diet, so that my body can get the benefits that diet offers, and oats are not evil for the time being. I stumbled across this Applesauce Granola recipe, happened to have all the ingredients already on hand, and decided to make it. I cut out the brown sugar, so the only sweetener is a tablespoon of honey. By itself, the granola is quite bland, and I was worried that it was just going to sit around for a few months, before I threw it out. Then I got the idea to make a snack out of it, and I created this delicious trail mix. The practically unsweetened granola allows the other flavors to stand out and shine. I've even considered eating this as a cereal, because it would be fantastic. My girls are constantly begging to snack on this, and I'm okay with them doing so.
2 C Granola
1 C FD* Raspberries
1 C FD Strawberries
1 C FD Vanilla Yogurt Bites
1 C Raisins
1 C Unsalted Pumpkin Seeds
*freeze dried
Mix together and store in an airtight container. If you really want to be super healthy, leave out the yogurt bites, as those have sugar added, made glaringly obvious by how my girls eat all of those first. If you don't have any of the freeze dried foods, it's still really good with just the raisins and pumpkin seeds.