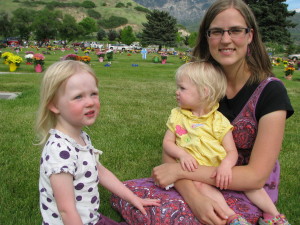 As I write, someone is setting off fireworks, which is cool, considering that it's Memorial Day weekend. We just finished a wonderful evening with family, remembering those we love, who are no longer with us. Earlier in the day, we visited the burial site of my granddad. I have his ham radio call sign, and I think of him often. I do believe he is my guardian angel. At the site, we commented on how well and healthy he feels to all of us, and we marveled that my grandparents were born in the roaring 20s and grew up during WWII.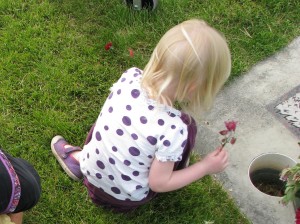 My girls have never met my granddad, because he died when I was still in elementary school. But our oldest understood that we were going to see great grandpapa, and was thrilled to bring him some flowers that she helped me pick. Upon setting up the flowers at our relatives sites, she proceeded to upright the flowers that had blown over at other sites. She is entering a new phase of understanding and caring that gives me extreme pleasure to see. Our youngest is still too young to grasp the general idea, but she knew that she was with family, and was completely at ease.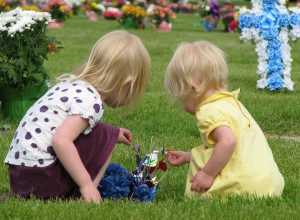 After we chatted and pulled a few weeds, we had a picnic dinner at my house. Since my grandmother will be ninety this year, we stayed in, rather than finding a park. We had our standard hamburgers, potato salad, and chips, with cookies and my grandmother's ginger bread, one of my favorites, for dessert. Lettuce, radishes, and broccoli were provided from my garden. Then we enjoyed the BBC version of Sense and Sensibility, which although long, was just what we needed to relax for the evening.
I am so grateful for my family. They are absolutely fantastic, and I wouldn't be where I am today without them. My grandmother has always been an avid reader, and passed that down through my mother to me. My mother has guided me on my path through life always. Because of her guidance, I have the most wonderful husband anyone could ask for, and I am learning how to be the kind of wife and mother that I want to be.