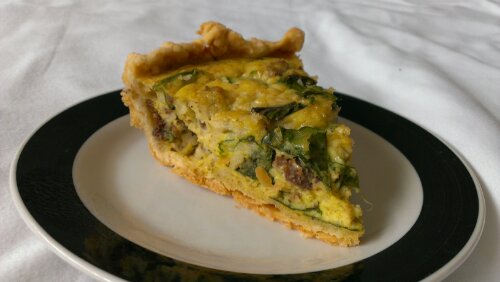 Quiche is a family favorite, but given the amount of milk and cheese in it, we haven't had it in over a year. Our chickens gave us so many eggs recently, that I could think of no other way to use them other than in a quiche. So, I experimented, and it worked the first time, which is amazing. The texture is not perfectly the same as if it had milk and cheese, but the flavor is very similar, and my kids still eat it, so it must be good.
Every good quiche starts with an amazing crust. I use this crust recipe for every crust I ever make, pumpkin pie, apple pie, chicken pot pie, and quiche. This is a butter crust, so if butter is on your list of no-nos, there are shortening and oil crusts out there that some people prefer, but the butter crust is my favorite, and thankfully our lactose intolerees can handle it.
Butter Pastry Crust
1 C flour
1/4 t salt
6 T butter
1 egg
Combine flour and salt in a small bowl. Cut in butter and mix using a pastry blender. Add egg and form dough into a ball. Flour a flat surface and a rolling pin. Roll out dough to about 1/4 inch thick. Gently place crust into pie pan and form edge as desired.
For a quiche, cover crust with foil and place rice or beans on top of the foil to keep crust from bubbling up. Cook in a 450°F preheated oven for 8 minutes. Remove foil and cook for another 4-5 minutes. Remove crust from oven and lower temperature to 325°F.
Filling
4 T butter or oil
4 T cornstarch or arrowroot powder
1 1/2 C coconut milk, divided
1/8 t cayenne pepper
1/2 t pepper, divided
3/4 t salt, divided
1/4 t garlic powder
1/2 lb. ground beef
1/4 C FD* onion or 1/2 fresh onion
7 eggs
3 C swish chard, chopped
*freeze dried
In a small sauce pan, melt butter over medium heat. Whisk in cornstarch. Add 1 C of coconut milk all at once. Stir to incorporate with butter mixture. Add cayenne pepper, 1/4 t pepper, 1/4 t salt and garlic powder. Stir continuously. Sauce will start to boil and then thicken. Remove from heat when it has the same consistency as gravy, and allow to cool.
In a frying pan, brown ground beef and add onion.
Place eggs in a medium bowl, and add 1/2 C of coconut milk. Whisk in coconut and butter sauce. It will be lumpy. Add beef and onion mixture and swish chard. Pour into crust and cook in a 325°F oven for 60 minutes. Let cool for 5 minutes and serve warm.