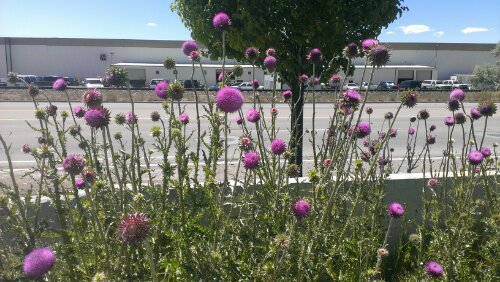 While driving today, I passed a thistle field in bloom. It was a spectacular purple that I'm not used to seeing in my desert state without help from a gardener. When I realized the beautiful potential this plant has, I started imagining it in a completely desert environment, no human development around to make it a weed. How amazing would it be to just happen upon a huge field of this beautiful purple flower? Of course, as soon as you realized the death beneath the flower, you'd be disappointed that you couldn't go through the field, but it'd be pretty just to look at all the same.
It's a shame this weed is so noxious. The stem and leaves are prickly, so much so that my oldest only had to encounter it once to know to stay away. It can spread so easily that we have found some in our grass 50 feet away from our weed field. Digging it out of the ground is not enough to get rid of it, even before it goes to seed, as the roots run very deep.
Despite all of this, I didn't bother digging any up this year, and I'll probably pay the consequences next year, but it's been incredibly fascinating to watch them grow. Our largest thistle is taller than me, and dominates the half of the garden that I'm not using this year. It looks ominous, and I can't wait for the snow to kill it, so I can attempt to dig it up.