For the longest time, feeding kids lunch has eluded me. Once they got past the baby food and formula, and into the real stuff, I had no idea what to do for lunch. Breakfast and dinner were just fine, but lunch was impossible. Sandwiches simply aren't an option for the toddler/preschool age, because they don't understand why you would stack everything just so and then they can't balance everything between the bread anyway. Even a simple tuna sandwich would be taken apart, the tuna eaten, and then the bread. For the longest time, I made soup, because it's delicious and easy, but that was still too messy to continue for long. Then the raw foods craze came out, and I figured it out.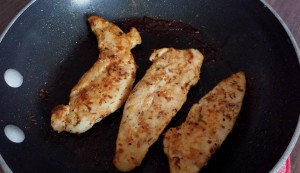 Our lunches now consist of either chicken tenders or left overs and tons of raw fruit and vegetables. Protein and carbs, it's a perfect meal for the middle of the day. I cook the chicken tenders in olive oil, so there is a bit of fat, but we get the majority of our fat from breakfast and dinner. (If you don't know yet, I believe that saturated fat is good for you, and that olive oil is good in small amounts as well.…And actually I think everybody's body is different so there is no one diet that will work for all.)
So, this is how lunchtime goes for us now. Starting around noon, I heat about a tablespoon of olive oil in a pan over medium heat. Then I add 3-4 frozen chicken tenders (Costco has the best.) After about five minutes, I flip them over and season the partially cooked side with Emeril's Original Essence. It's a fantastic spice blend that has become a staple in our household. Five minutes later, I flip them over again and season the newly cooked side. Then I flip them 1-2 more times until they are completely cooked. When the chicken is done, or very close, I get out a plate and pack it with fruits and vegies that are cut up or prepared in such a way that they make easy finger food for my kids. For example, baby carrots just go straight on the plate, grapes are washed and left on the vine, oranges are peeled and pulled apart, bananas and cucumbers are peeled and sliced into discs, and apples are cut into slices.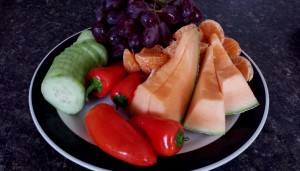 Then I stick the fruit and vegie plate between my girls, give them each a chicken tender, and we say a prayer on the food. Yes, I make them exercise self-control to not touch the food while we pray. It's only 30 seconds max, and they handle it just fine. As soon as we're done praying, they eagerly load their own plates up with whatever looks good to them. There are a few rules that they are required to follow. First, they must have one bite that they swallow of everything on the fruit and vegie plate. Second, they must have at least one more bite, beyond what they have already had, of chicken before they go for seconds from the fruit and vegie plate. They were resistant to these rules at first, but I stood my ground and stick to my word. If they have had one bite of a food and decided they don't like it this time around, then I don't make them eat any more of it. When they are finished, I have them clear their plates off the table, but leave the fruit and vegie plate out with whatever is left over for them to snack on whenever they want. Around dinner time, I give whatever is left over after snacking to our chickens, who devour the rest of it.
Sometimes I pick one color as the theme of the plate, and other times I try to make a rainbow of colors. When I first started, almost everything I put out were fruits and vegetables that they were already used to, but over time, I have been trying to expand their palates by trying a new fruit or vegie every so often. In the past I have done strawberries, raspberries, watermelon, cantaloupe, apples, pears, grapes, bananas, oranges, clementines, broccoli, cauliflower, carrots, and black olives. This week, I was able to buy more fruits and vegies than normal, so we have cucumbers, yellow cherry tomatoes, sweet peppers, and pineapple to try. When I put the sweet peppers out, the girls we very excited to try them, because they're actually the ones who picked them out. As it turns out, that's the one food they only took one bite of. Unfortunately for them, I have a whole bag of them, so they're going to have to take one bite of them every day this week. Maybe I'll give them some salad dressing to help with the taste. The cucumbers were devoured so fast that I almost didn't get any for myself.