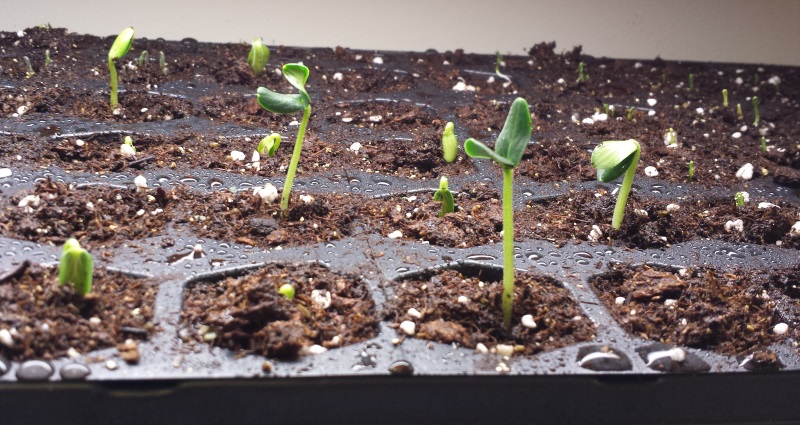 God has answered my prayers today for rain. Although looking outside, I am debating if it is rain or really slushy snow. It is so wonderful to not have to water today. That is the biggest downfall of living in the desert, there is never enough water it seems. This year is even more nerve wracking, since we only got snow for Christmas, and maybe a few other times, but certainly not enough to pull us out of the drought we were in last year, despite all the wonderful autumn rain. One thing is for sure, though, you become an expert at the weather when you are a gardener.
So, while we are blessed with rain on this beautifully, cloudy day, I am focused on my indoor gardening. I have started my summer seeds, to be planted outside in roughly one month from today. Planted six days ago, my seedling tray now contains 10 Marketmore cucumbers, 7 Noir De Carmes cantaloupe, 1 Crimson Sweet watermelon, some German Queen tomatoes (I couldn't tell how many were pushing up through the dirt), 1 Stupice tomato, 3 Sun Sugar tomatoes, 3 Paul Robeson tomatoes, 4 Sungold Select II tomatoes, 1 Tondo Scuro Di Piacenza zucchini (an heirloom eight ball zucchini), 1 Connecticut Field pumpkin, 1 cilantro, and 41 Green Mountain Multiplier onions. I am just imagining all the food I can get with that alone, but there is more I am still waiting on: Dark Green zucchini, Spaghetti squash, Jack Be Little pumpkins, and I am hoping for more watermelon.
Outside, my Tom Thumb peas are doing well, and my Swiss chard has sprouted. The strawberries are in bloom, and produced many new starts, which I moved to an empty area. I still need to finish weeding them. It's slow going, since the majority of the weeds are mint and grass, two of the most difficult weeds you could ever have in an area. I bought seed potatoes at my favorite nursery yesterday, Yukon gold, a red variety, and a blue variety. The box for them is cleared, and simply needs to be loosened and compost added to it. And, finally, all of the carrots have been harvested from last year. They are so tasty, and digging them out of Mel's mix has got to be the most fun thing you can do with your children in the garden. Imagine playing in a sandbox filled with dirt and carrots, instead of sand, and then being able to feed the carrot tops to the chickens, because they love them.