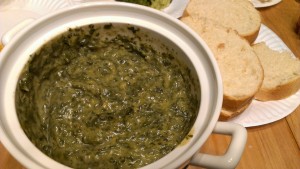 We had a fondue night with some friends, and needed a non-dairy dip for our lactose intolerant daughter. I wanted something like a cheesy spinach dip, without the actual cheese. After browsing many spinach dip recipes, I decided to try a dairy free white sauce, mixed with spinach. To give it a bite like cheese, I added cayenne pepper.  This is really good with chips, cheddar cheese, and bread.
4 T butter*, coconut oil, or olive oil3-4 T cornstarch or arrowroot
2 C coconut milk
dash of cayenne pepper
salt
pepper
1 T Worcestershire sauce
2 C FD** spinach
1 1/2 C chicken stock or water
*Our lactose intolerant can handle small amounts of butter.**freeze dried
1. Melt fat of choice in a sauce pan. Add cornstarch to thicken. Stir in coconut milk and heat over medium heat to thicken. Add spices and Worcestershire sauce.
2. Heat spinach and stock until stock is mostly gone.
3. Add reconstituted spinach to white sauce. Heat over medium heat for about 15 minutes until thick. Stir frequently.